Giving your yard a permaculture makeover is a totally doable, smart move. Permaculture planting can be different than other forms of gardening, though, so you'll want to take an organized approach to your goals.
To help you get started, we rounded up five of our favourite tips, some of which were inspired by savvy permaculture enthusiasts on the r/permaculture subreddit.
Tip #1: Get to know native plants
Learn about native plants that thrive in your area, including which ones are manageable on your property.
If you're new to permaculture, it's often best to keep your planting plans simple at first—you can always add more complex arrangements later!
Tip #2: Get to Know Your Soil and its Drainage Patterns
Before planting anything, dig a few holes in your garden or lawn to see what's happening at the surface and further underground:
Where does water move after a significant rainfall?
Does rain absorb into the ground, pool on the surface, or flow away?
Which nutrients are in the soil? This may require some testing!
What kinds of sediment or deposits does your soil have?
Once you have a good idea of what's in your soil, you'll know what, if anything, needs to be updated for your plants to thrive.
Tip #3: Make a Plan
As you're observing the lay of your land (pun intended), record your thoughts to track patterns and spark ideas.
Then, when your observations are complete, create a plan that optimizes on the strengths of your yard. You could include things like:
Necessary vs nice-to-have updates
Periodic milestones you want to hit
Structural needs, like greenhouses, composters, or rain catchers
Need help creating your plan? Talk to a permaculture designer, like one of 5th World's consultants.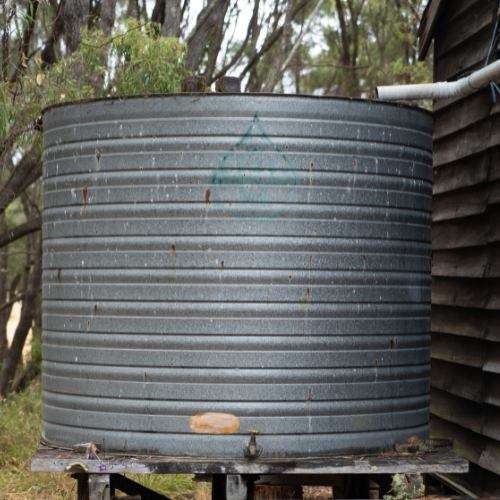 A rainwater collection barrel in Australia. Photo by Harry Cunningham.
Tip #4: Learn from Experts
When learning a new skill, it pays to connect with a mentor. Luckily, many experienced permaculturists are thrilled to share their knowledge in both in-person and online communities.
Want to take your learning to the next level? Consider a permaculture design course from our partners at Verge.
Tip #5: Study Greenhouses
Greenhouses can expand your growing season and options. Different types of greenhouses are suited for different purposes and climates, so be sure to select the right one for your land.
Pro tip: Find someone practicing permaculture in your community, and strike up a conversation about their greenhouse. They will likely be flattered that you asked and happy to 'talk shop' with a newbie!
Get involved: Have you "permacultured" your yard? Send us your photos with a short description of what you did—you might see your project in our newsletter or social channels!